Dr. Craig Schank
Dr. Craig Schank is a third generation "Fallonite". He was raised on a local dairy farm. For as long as he can remember, he has always wanted to be a veterinarian. Dr. Schank received his Bachelor of Science degree from Brigham Young University in 1978 and his Doctor of Veterinary Medicine degree from Colorado State University in 1982. He practiced for two years in Live Oak, California prior to moving back home to Fallon in 1984. He recently completed a 9-year appointment on the Nevada State Board of Veterinary Examiners. Dr. Schank and his wife Debbie are the parents of four sons and a daughter and grandparents of nine. Dr. Schank enjoys spending his free time with his family, snow skiing and camping(with a very active group of boy scouts as he serves as an assistant scoutmaster).
Dr. David Faught
Dr. David Faught was born in Ellensburg, Washington. By the time he was three, his family settled in Fallon where he was raised on the Carson River. His father was a farrier, horse trainer and professional rodeo cowboy. Dr. Faught followed in his father's footsteps becoming well accomplished in all three areas (this came in handy getting through eight years of college).
At the age of six, wishing he could correct the mistake he had made with the care-taking of his father's expensive rope horse, the desire to become a veterinarian was burned into him.
Dr. Faught received his Bachelor of Science degree from the University of Nevada and his Doctor of Veterinary Medicine degree from Washington State University, "Go Cougs"!
Dr. Faught and his wife Loni are the parents of two sons and four daughters and grandparents of one. They enjoy raising their family in the rural farming environment of Fallon and when not busy working and attending his children's sporting events, he still enjoys cultivating his roping skills.
Dr. Pamela Ferguson
Dr. Pamela Ferguson was born and raised in St. Helena, California, a small town in the heart of the Napa Valley wine country. She grew up riding horses, playing sports and raising market hogs. In high school she traveled to Holland and Sweden to play soccer and was an active member of FFA, earning her American FFA Degree in 2004.
Dr. Ferguson attended the University of California, Davis where she received her Bachelors degree in Animal Science with an emphasis in livestock and dairy. She continued on to earn her Doctor of Veterinary Medicine Degree in 2011.
Dr. Ferguson moved to Fallon to join the LVVC team and shortly thereafter met her husband, Jason. Together they share 3 beautiful children who are 7th generation Fallonites.
In her spare time she enjoys volunteering in the community, making memories with her family and staying active. Her professional interests include soft tissue surgery, ophthalmology, reproduction and fear free handling.
Dr. Jeffrey Oyler
Dr. Jeffrey Oyler was raised in a small town in Southern Utah and spent most of his time while growing up helping his dad on the family farm where they raised mostly beef cattle. This is where he developed his love for animals, the outdoors and hard work.
After trying his hands at a few other trades, Dr. Oyler decided to pursue his dream of being a veterinarian and attended Southern Utah University where he received his Bachelor's Degree in Agriculture in 2010 and went on the receive is Doctorate in Veterinary Medicine from Washington State University in 2014.
Dr. Oyler and his wife, Marie, have three daughters and one son who definitely keep them on their toes—and they love it.
As a family they enjoy spending time together traveling, camping, going for walks and playing in the park.
Although his family is his first love, horse riding is a close second and you will never see him turn down a good pick-up game of basketball.
Dr. Lyle Whitaker
Dr. Lyle Whitaker was born and raised here in Fallon Nevada on his father's dairy farm, where he learned to work with animals from a very young age.
Dr. Whitaker received his Bachelor's degree from Utah State University in Animal Science and continued on to Washington State University where he received his Doctor of Veterinary Medicine Degree in 2015.
Dr. Whitaker always wanted to return home and feels very fortunate to do so and serve the community he was raised in. In his free time Dr. Whitaker enjoys being outdoors, biking, fishing and above all spending time with his two boys, Cohen and Jack, and his wonderful wife Brittany.
Dr. Raymond Cooper
Dr. Raymond Cooper was born in a small town in Southern Missouri. He received his Bachelor of Science and Doctor of Veterinary Medicine in 1991 and 1995 respectively from the University of Missouri "i.e Mizzou Tigers".
After graduation, he served four years in the U.S. Army, providing veterinary care for the Marine Corp Air Ground Combat Center in 29 Palms, California. He moved to Fallon in 1999 and has decided to make Fallon his permanent home.
Dr. Cooper is the father of three very active boys. When not chasing or shuttling his sons to school activities or sporting events, he tries to relax, enjoying the great outdoors is search of wild places and the fish and game that reside there.
Dr. Danye Archuleta
Hi, I'm Dr. Danye Archuleta. I was raised in Northern Nevada, and I am happy to be back in my home state. My dream of becoming a veterinarian started as a child, raising animals for 4-H and competing in junior rodeo. My childhood veterinarian Dr. Chrysann Collatos would always allow me to help her treat our animals, and she would become my greatest mentor in my journey into veterinary medicine. Growing up, my favorite activities were riding my horses and competing in rodeos and jackpot events. I still love roping and compete in ACTRA ropings and local breakaway events with my husband when I can.
After graduating high school, I went to college at Colorado State University-Pueblo, where I earned my Bachelor's degree in Biology with a minor in Chemistry. I then attended Washington State University's College of Veterinary Medicine and graduated with my DVM degree in 2019. I completed a one-year internship at Chaparral Veterinary Medical Center in Arizona, an Equine specialty hospital, where I gained a lot of experience treating horses exclusively. I began working at Lahontan Valley Veterinary Clinic in 2020.
My favorite areas of veterinary medicine are: Equine medicine and preventative care (including dentistry, geriatric horse care, internal medicine, lameness and biomechanics, and improving general husbandry and care); Bovine general care (pregnancy diagnosis, Trichomoniasis testing and breeding soundness examinations, official calfhood vaccination, etc.); general medicine and preventative care of dogs and cats.
In 2022, I completed training in Animal Chiropractic care at Options for Animals College of Animal Chiropractic. I am Certified to practice Animal Chiropractic by the American Veterinary Chiropractic Association in accordance with Nevada law. Chiropractic care is a crucial component to the health and wellness of animals, and I am very excited to offer it as part of my veterinary practice here at LVVC.
Dr. Abby Bake
Dr. Bake was raised in Lovelock, Nevada. Growing up in a small town gave her a diverse experience that ranged from playing volleyball and basketball to raising 4-H market hogs, which ultimately cultivated her love of caring for animals at a young age.
After graduating from Pershing County High School as a fourth-generation graduate, she attended the University of Nevada, Reno. During her time at the university, she was a proud member of Kappa Alpha Theta and loved supporting the Wolf Pack. She earned her bachelor's degree in veterinary science in 2019 and then moved to Pullman, Washington where she received her Doctorate in Veterinary Medicine from Washington State University in 2023.
Dr. Bake is fulfilling her life-long dream of returning home to northern Nevada as a veterinarian. She is excited for the opportunity to not only work in Fallon but to also become an active member of the community. In her free time, she enjoys spending time with her pup Piper, reading in the sunshine, boating, fishing, hunting, and exploring northern Nevada. She looks forward to taking care of the four-legged members of your families as well as the production animals that serve a vital part of Fallon's agriculture industry. Dr. Bake is excited to begin her career in Fallon and cannot wait to meet y'all! Ron
Office Manager
Bio coming soon!
Kathleen
Client Service Representative
I have loved animals as far back as I can remember. I grew up in Danville, California where my family- owned pet retailer stores. So, it was an inevitability that I would work with animals. I have been a part of the Lahontan Valley Veterinary Clinic Family for over a decade.
I graduated from Danville Highschool then attended College where I completed a Pet Care Technician program and received certificates in dog grooming, Animal behavior. Additional Certifications I have are a DOT Hazmat certification, Skill Path Seminar Administrative Assistant, and Assertiveness Training for women in Business.
I am an upbeat person who loves life and shows it by living life to the fullest. I enjoy creative arts, working with animals, hiking, classic cars and doing ranch work.
Amanda
Client Service Representative, Veterinary Assistant
I was born and raised in Fallon Nevada. My mother worked for Lahontan Valley Veterinary Clinic as the office manager, where I frequently visited. This instilled a love of animals in me that drove me to follow in her footsteps. I have worked at the LVVC for 14+ years and counting.
My family has been in Fallon for a long time. I graduated Churchill County Highschool as a second generation, I have two children who attend Churchill County Highschool currently. With three more soon to attend.
I am a devoted mother of 5 so my hobbies change with the season. Whatever my children are into quickly becomes my new hobby, as well. My main goal is to be the best I can, wherever I am.
Kori
Receptioninst
I was born in Texas but I grew up in Fairhope, AL. While in Fairhope, I attended a small private school from the third grade through High School Graduation. I came to Fallon in 2007 as a military wife.
I enjoy spending time with my family. My passion is photography but I also enjoy cooking, travel and my dog, Hero.
I love to explore. Living here with all the splendor that nature has to offer is absolutely amazing. I spend a lot of time out in the desert in my Jeep. There is an endless possibility of adventures awaiting, if you are willing to get out there and look.
Jodie
Receptionist
I was born in Oregon. I moved to Elko for 12 years but my heart has always belonged to Fallon. After my children graduated, we moved back home.
I have some college and have had a few careers mainly in retail. My last occupation was through Purina. Where for 20 years I was a Purina Gold Dealer. I specialized in animal nutrition mainly Equine as well as training and merchandising.
I am a person who enjoys the outdoors you can frequently find me around horses. My family's favorite activities include riding and showing horses. My favorite thing is riding jumping horses, it is absolutely exhilarating!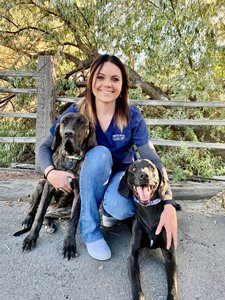 Hope
Veterinary Technician
I was born and raised in Reno Nevada. In 2012 I graduated from Spanish Springs High School with an Advanced Diploma. Fallon has always been like a second home for me because I have always been a country girl at heart.
I graduated from Pima Medical Institute in Tucson, Arizona in 2017, where I received my Associates in Animal Science. I also received my certification as a Veterinary Assistant and in the Spring of 2018, I sat for the VTNE (Veterinary Technician National Exam). I have been working at Lahontan Valley Veterinary Clinic as the Head Veterinary Technician ever since.
In my free time I love being outdoors. My favorite activities include hiking around Lake Tahoe, riding horses, camping with family, or exploring new places with my boyfriend. Cathy
Milk Lab Technician
Bio coming soon!
Kelly
Veterinary Technician
I grew up in Thousand Oaks California. Where I graduated from Thousand Oaks Highschool. I grew up near Marine World so as a little girl I wanted to work with whales. I pursued a career in Marine Biology until I realized it wasn't what I had imagined. After a long period of personal exploration and many career changes, I realized that Veterinary Technician was what I wanted to be. I moved from Southern California to Dayton where I worked at for 13 years. When the clinic changed owners, I decide to leave. My husband Todd and I decided this would be a great time to uproot. We found a beautiful place here in Fallon.
I received my Associate degree in Veterinary Technology and Equine Science from Pierce College. I have extensive emergency critical care, dentistry and exotics experience in addition to equine, dog and cat.
I love the outdoors. My hobbies include riding my horses, fishing and learning to team rope.
Amber
Veterinary Technician in Training
I was raised in Yerington, Nevada. I grew up on a farm where we raised a wide variety of animals. Throughout middle school and high school I raised and showed sheep. I moved to Fallon to work here at the LVVC, where I work as a Veterinarian Tech in Training.
I attended the University of Nevada Reno where I graduated with a bachelor's degree in Veterinary Science. I am currently attending Penn Foster online so I can fulfill my goal to become a Veterinarian Technician.
Growing up on a farm has blossomed my desire to help animals. My hobbies include saving small animals like baby birds and rabbits and riding horses.
Karin
Veterinary Assistant
I was born in Colorado Springs, Colorado. When I was little my family moved to Killeen, Texas. I attended and graduated high-school in Texas in 2008. Before we moved to Fallon my husband and I were living in Pennsylvania. My husband has family here in Fallon and we needed the family support so we moved across the country to be here.
Of course, I really love to spend time with family. One of my favorite things to do is to create art especially etching designs or pictures on to glass surfaces like cups and mirrors.
Mandi
Veterinary Assistant
Bio coming soon!
Averie
Receptioninst
I was raised in Fallon Nevada. I attended school at the home of the Greenwave, Churchill County Highschool graduating in 2021. I was an active member of the local FFA and love showing animals. I have always loved animals so it makes sense that I love working here.
Although, I am unsure of what my future holds but I am happy where I am today.
In my free time, I love being outdoors, spending most of my free time in the mountains hunting and fishing. I enjoy spending time chasing birds with my dad and our favorite dog, Aspen. I love Nevada because you never know what adventure awaits!
Carlinn
Veterinary Assistant
I was lucky enough to have grown up in three different states, California, Oregon and Nevada. I have been a resident of Fallon Nevada since 2012. I graduated from Churchill County Highschool right here in beautiful Fallon Nevada. I have worked here at the LVVC since April of 2022.
I am currently attending Penn Foster pursuing a degree in Veterinary Nursing. A degree in which I intend to use here at Lahontan Valley Veterinarian Clinic.
I enjoy living in the desert because I love to take my dogs for long walks and I love to read.
Julie
Veterinary Assistant
I was raised in Cincinnati Ohio where I graduated from Oak Hills High School. Since then, I have traveled extensively due to my being in the Army for 6 years. That is how I found myself in lovely Fallon, NV. I attended TMCC in Reno where I earned my Associates in Art. I am planning
on going back to school in pursuit of my Veterinarian Technician Degree. I started at LVVC for a couple of reasons: 1. I wanted to make sure Vet Tech
was something I really wanted to do and 2. because I knew I would need the experience. My time here has given relevancy my decision to pursue Vet Tech and I can't wait to start.
My time away from work is spent enjoying my family. My loving husband Nick, my adorable son Landon, and our family dog Albus.
Cassandra
Veterinary Assistant
I was born and raised in the small town of Elkton Virginia. I graduated from Spotswood High School. How I landed in Fallon? I am a proud to say that my husband is in the Navy so I tend to have to move when he gets relocated. Which, as you can guess, is both a blessing and a curse. I have traveled quite a bit including a stint in Hawaii. I am excited to start here at Lahontan Valley Vet Clinic. Everyone has welcomed me with open arms.
I am currently enrolled in the long-distance nursing program through Purdue University in West Lafayette, Indiana pursuing a Veterinary Nursing degree in addition, I have a CNA from Massanutten Technical Center.
I love spending my free time with my boxer and of course my husband.
My goals are to graduate for Purdue University and the pass the Veterinary Technician National Examination (VTNE). Then to pursue my Veterinary Technician Specialist (VTS) with a primary focus on Oncology.
Reese
Veterinary Assistant
I was raised in Fallon Nevada. I graduated from Churchill County Highschool. I worked as a vet assistant here in town at another pet hospital for a while before this opportunity came up. I really enjoy working here. There is a family feel with all the staff.
Working here at Lahontan Valley Veterinary Clinic has opened my eyes to careers in the vet field. What I have learned has given me the confidence to apply for Veterinarian Technician school, which I hope to enroll in soon.
When I'm not working I like fishing, hunting, watching scary movies and listening to good old country music.
My life goals are to become a Veterinarian Technician and have my own ranch!
Momma Kitty
Night Watchman